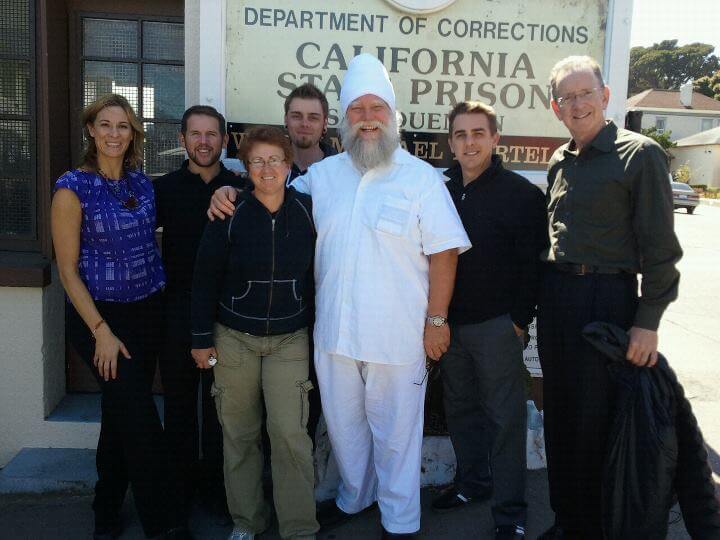 It was hard to know what to expect from doing a mission trip to one of the most notoriously 'dangerous' places on earth.  On Friday, August 19th 2011 I had the distinct honor to join 6 other chiropractors in a day of service to the inmates of the world-famous San Quentin State Prison.  Prior to arrival, we were provided with a list of rules including: don't wear jeans; don't wear blue, orange, or green; don't run; don't leave clothing unattended; don't reveal personal information; don't ask the inmates anything other than their first name; don't bring in anything other than a chiropractic table, your car key, and your ID.  The guards pacing atop the prison walls with sniper rifles assured us that these rules were to be taken very seriously. The day began with some fear and trepidation, but ended with gratitude, fulfillment, and hope.  The purpose of the trip was to share our belief that health care is a right, not a privilege.  Our purpose was not to help alleviate back pain, but to connect each person we touched with their Innate life force inside them.  Our purpose, in short, was to turn the light on, because when even a small light shines amid complete darkness, it can be seen from miles and miles away.
Nicknamed 'The Big House', San Quentin State Prison opened in 1852 at Point Quentin, overlooking the San Francisco Bay.  The castle-like façades of the prison's original buildings still remain and are the most recognizable feature to visitors.  Not only is it California's oldest prison, but it is also the only prison in California to hold executions.  San Quentin has the largest Death Row in the United States (almost 700 inmates), and also the most notorious – housing such high-profile criminals as Scott Peterson and Richard Ramirez.  By last count, the prison employs 1,718 staff and houses 5,222 inmates, which is about 180% of capacity.  Over the years the prison has been the subject of many concerts, documentaries, television shows, movies, and in recent years – mission trips.
The event at hand is the annual San Quentin Health Fair, which was originally started in 2003 by Dr. Arnold Chavez of the Alameda County Department of Public Health, and Dr. Alexis Parian, D.C.   The participants included a few different health care groups, but none in higher demand than the chiropractors. This year's chiropractic group consisted of three full-spine doctors: Dr. Janna Huboi, Dr. Amie Gregory, and Dr. Robert Adamich, and four upper cervical doctors: Dr. Hari Khalsa, Dr. Ian Davis-Tremayne, Dr. Ryan Lawlor, and myself.  The day began with a lengthy security check.  We were shuffled through several sections of security gates and clearance processes.  Then, we were escorted on foot across the main yard of the prison.  While walking along the concrete path that surrounds the central baseball field, we were greeted with smiles and waves from blue jacket and jean-clad inmates.  We were escorted to our specific room by our TRUST liaisons, Red and John.  The TRUST Fellows of San Quentin are a group of twenty to twenty-five inmates who have earned the right to serve as mentors to other incarcerated men, and work as liaisons to support groups and professional organizations in the community.  It was clear that these guys had the respect of the other inmates and they made us feel immediately safe and welcome.
Throughout the day, we adjusted several hundred inmates.  We were set up in a portable building normally used as a classroom, with comfortable carpet and big, open windows.  The inmates stood in line and several of the TRUST Fellows served as the gatekeepers at the door and controlled the flow methodically.  They made us feel very welcome and at no point did we feel any sense of danger.  Each inmate was first led to us in the upper cervical group.  After greeting the inmates with our first names and a friendly handshake, we used our methods of analysis to determine a listing and adjusted accordingly.  Then, we had them stand along the wall until one of the full-spine chiropractors waved them over.  While their tattoos and scars helped these men appear intimidating, they were very friendly and grateful for our care. They were shy at first, but seemed to open up after the initial greeting and the adjustments.  The mood was relaxed and jovial — smiles and laughs filled the room infectiously, and followed them out of the room and into the yard.  One inmate told me to be careful of his lower neck because he still has bullets lodged beneath his skin.  Another claimed his eyesight was completely restored immediately after I adjusted him.
The significance of our contribution to the dynamic of the prison cannot be minimized.  The most significant moment of the day occurred as we were packing up to leave.  I was standing with our head escort who works for the Alameda County Department of Public Health and comes to San Quentin often.  He was describing the racial segregation that is commonplace in San Quentin.  He talked of this in depth, about the different cliques divided by race – the blacks, the whites, three subdivisions of Mexicans, and 'Other'.  He described how they interact and how they keep peace within the walls of the prison yard.  Then, he said something that I will never forget – something that defined my service that day: "You know, today was unlike any other day in here.  I've never before seen the different races interact with each other like they did today.  They were joking with each other, laughing, high-fiving…  That just never happens in here.  Something changed today."
This statement speaks to the power of the adjustment and the significance it can have to our community and our world.  On a neurological level, we helped balance the afferent input that is sent from the spine to the brain, improving the overall function of the brain and nervous system.  On a philosophical level, we helped to connect each person more with the Innate Intelligence inside of them that serves to help their body function and heal properly.  On a sociological level, we temporarily broke the racial barriers that exist within the prison dynamic and allowed each inmate to view each other as equals, as human beings.  We changed lives on this day.  Whether it was temporary or whether the ramifications of today will begin a process of events that will change the community in the long term remains to be seen.  But, we did make a difference.  In an area of complete darkness, a single light can be seen from miles and miles away.  As other lights continue to appear and become brighter, there comes a point when you can clearly see the person next to you for whom they really are:  flawed, beautiful, human.
~Noah Kaplan, D.C.