Walnut Creek Chiropractor
Welcome to Advance Upper Cervical Chiropractic
Looking for the highest quality Walnut Creek chiropractor to treat you? Dr. Noah Kaplan and Dr. Daniel McClelland with Advance Upper Cervical Chiropractic are proud to serve the Walnut Creek community with quality Upper Cervical Chiropractic care. Whether you are looking to relieve pain, treat migraine headaches, heal from a car accident (whiplash) trauma, or simply improve your overall health and wellness, our chiropractic office is the right place for you.  As chiropractors, the most common conditions we see are neck pain, headaches, and back pain, but have experience with all types of head, neck and spine conditions.
We offer highly specialized care focused on the Cranio-Cervical junction.  We utilize advanced 3-D Imaging technology to specifically analyze the head & neck alignment in order to properly correct it.  The adjustments are gentle and specific.  There is no twisting, cracking, or popping of the head or neck.  The goal is to create measurable, effective, and lasting change.
Dr. Noah Kaplan Upper Cervical Chiropractic
Walnut Creek Chiropractors You Can Trust
Chiropractic care is centered on the relationship between the alignment of the spine and the function of the nervous system. Misalignments in the spine occur from physical, mental, and emotional trauma, and when one is stuck in a misaligned state, health problems can occur. Spinal misalignments create two major detrimental health effects:
Postural imbalance
Leading to musculoskeletal pain and dysfunction such as neck pain, mid-back pain, low back pain, shoulder pain, hip pain, sciatica, and tension headaches.
Nervous System interference
Leading to conditions of neurological dysfunction such as migraine headaches, tinnitus (ringing in the ear), vertigo, Trigeminal Neuralgia, TMJD (jaw clicking/pain), tingling/numbness in the arms or legs, Multiple Sclerosis, Fibromyalgia, High Blood Pressure, Torticollis, Digestive issues, Insomnia, and many others.
Chiropractors look to analyze the spine to determine exactly where the misalignments occur and use their hands (or a specialized instrument) to adjust the misalignment back to its normal position, thus removing interference and tension within the musculoskeletal and nervous system, and allowing the body to heal itself to its fullest capacity. Chiropractic care is a drug-free, natural approach to health care. This is a safe alternative to medication or surgery, which can come with potentially harmful side effects.
As Walnut Creek chiropractors, we specialize in helping people after they have been in a car accident and suffered Whiplash trauma. The C1 and C2 vertebra are the ones most likely to misalign during this type of trauma, and need to be specifically corrected in order for the spine to heal completely and efficiently.
Upper Cervical Chiropractor Walnut Creek Helps Headaches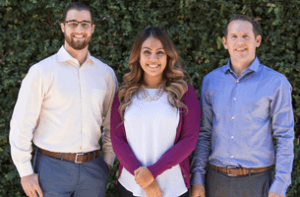 Walnut Creek Chiropractors Here For You
The team at Advance Upper Cervical Chiropractic have served the community of Walnut Creek since 2012. Patients often come from neighboring communities, including Lafayette, Orinda, Moraga, Concord, Alamo, Danville, Martinez, Pleasant Hill, and Benicia (among others).
If you are coming from the West San Francisco Bay area, our Walnut Creek chiropractor office is only a five minute walk from the Walnut Creek Bart  as well as the Bedford Gallery at the Lesher Center for the Arts. We are also centrally located near the Broadway Plaza Shopping Center. 
Call us now for a free consultation to see if Upper Cervical Chiropractic care is right for you! (925) 357-3080. 
Upper Cervical Chiropractor in Walnut Creek serving all East Bay communities including:
Walnut Creek, Lafayette, Orinda, Moraga, Concord, Pleasant Hill, Alamo, Martinez, Benicia, Danville
VERTIGO AND DIZZINESS RELIEF FROM UPPER CERVICAL CARE IN WALNUT CREEK, CA
LOW BACK PAIN RELIEF FROM UPPER CERVICAL CARE IN WALNUT CREEK, CA