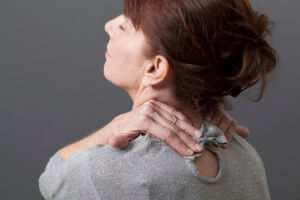 Significant injury to the neck can occur even if there are no immediate symptoms.
Significant injury to the neck can occur even if there is minimal or no vehicle damage.
Significant injury to the neck can occur even if the accident occurred at low speeds.
Proper seat headrest position can help minimize whiplash injury. A head restraint should be positioned at < 6cm below the top of the head or at least level with the top of the ears. The distance from the back of the head to the restraint should be as small as possible or < 6 cm from the back of the head.
Upper Cervical Chiropractic care can help. The top two bones in the neck (C1, C2) are the most unstable in the spine, and therefore most prone to misalignment and injury when in a physical trauma such as a whiplash injury. Over 90% of whiplash patients under chiropractic care showed notable improvement over a 6 month period of care. Chiropractic treatment has been shown to be 5x more effective than Celebrex or Vioxx within 9 weeks of treatment. Chiropractic care has also been shown to have a 2x greater success rate than standard medical care, and a significantly higher success rate than Physical Therapy.  Some measured markers include less work absences and less reliance on pain medications.  Passive joint motion is superior to active exercise therapy.
If you or someone you know has been in a car accident, we are here to help you.
Call us at (925) 357-3080
~Noah Kaplan, D.C.
Advance Upper Cervical Chiropractic
References:
Linnman, Lieuwe, Fredrikson, et al. Elevated [11C]-D-Deprenyl Update in Chronic Whiplash Associated Disorder Suggests Persistent Musculoskeletal Inflammation. Public Library of Medicine One. April 6, 2011, Vol. 6 No. 4, pp.e19182.
Seletz, Emil MD. Whiplash Injuries: Neurophysiological Basis for Pain and Methods Used for Rehabilitation.  Journal of the American Medical Association. November 29, 1958, pp. 1750-1755.
Gun, Osti, O'Riordan, et al. Risk Factors for Prolonged Disability after Whiplash Injury: A Prospective Study. Spine: Volume 30(4), Feb 15, 2005, pp. 386-391.
Brault, J. R., J. B. Wheeler, et al. (1998). Clinical Response of Human Subjects to rear-end automobile collisions. Arch Phys Med Rehabil 79(1): 72-80.
Kristjansson, Leivseth, Brinckmann, et al. Incrased sagittal plane segmental motion in the lower cervical spine in women with chronic whiplash-associated disorders, grades I-II: a case-control study using a new measurement protocol. Spine, October 1, 2003; 28(19):2215-2221.
 Schofferman J, Bogduk N, Slosar P.  Chronic whiplash and shiplash-associated disorders: an evidence-based approach.  Journal of the American academy of orthopedic surgeons. October 2007; 15(10):596-606.
Hijioka, Narusawa, Nakamura. Risk factors for long-term treatment of whiplash injury in japan: analysis of 400 cases. Arch Orthop Trauma Surg, Vol. 121, 2001, pgs. 490-493.
G. Bannister, R. Amirfeyz, S. Kelley, M. Gargan. Whiplash Injury. Journal of bone and joint surgery (british). July 2009, vol. 91B, no. 7, pp. 845-850.
Chiropractic treatment of chronic whiplash injuries. Injury. Volume 27, issue 9, November 1996, pages 643-645.
A symptomatic classification of whiplash injury and the implications for treatment. The journal of ortho medicine. Volume 21(I), 1999, pages 22-25.
Panjabi, Ito, Pearson, et al. Injury mechanisms of the cervical intervertebral disc during simulated whiplash. Spine: Volume 29(11) June 1, 2004 pp 1217-1225.
Kellett, John. Acute soft tissue injuries – a review of the literature. Medicine and science in sports and exercise. Oct. 1986;18(5):489-500.
Uhrenholt, Grunnet-Nilsson, Hartvigsen. Cervical spine lesions after road traffic accidents: A systematic review. Spine: Sept 1, 2002;27:1934-1941.
Dall'Alba, Sterling, Treleaven, et al. Cervical range of motion discriminates between asymptomatic persons and those with whiplash. Spine 2001;26:2090-2094 (Oct 1, 2001).
Giuliano V., Giuliano C., Pinto, et al. Soft tissue injury protocol using motion MRI for cervical spine trauma assessment. Emergency radiology, 10:March 2004, pp. 241-245.
Muller, Lynton, Giles. Long-term follow-up of a randomized clinical trial assessing the efficacy of medication, acupuncture, and spinal manipulation for chronic mechanical spinal pain syndromes. Journal of manipulative and physiological therapeutics. Jan 2005, Volume 28, Number 1.
Hoving, Koes, Henrica et al. Manual therapy, physical therapy, or continued care by a general practitioner for patients with neck pain: a randomized, controlled trial. Annals of internal medicine, vol. 136 No. 10, Pages 713-722, May 21, 2002.
Schofferman J, Wasserman S. Successful treatment of low back pain and neck pain after a motor vehicle accident despite litigation; spine May 1, 1994;19(9):1007-10.
Mercy Document, Appleton, 1992.
Foreman SM, Croft AC. Whiplash Injuries: the cervical acceleration/Deceleration syndrome; 3rd edition, Philadelphia, Lippincott Williams & Wilkins, 2002, pp. 525-526.
Tomlinson, Gargan, and Bannister. The fluctuation in recovery following whiplash injury: 7.5 year prospective review. Injury. Volume 36, Issue 6, June 2005, Pages 758-761.